Halesworth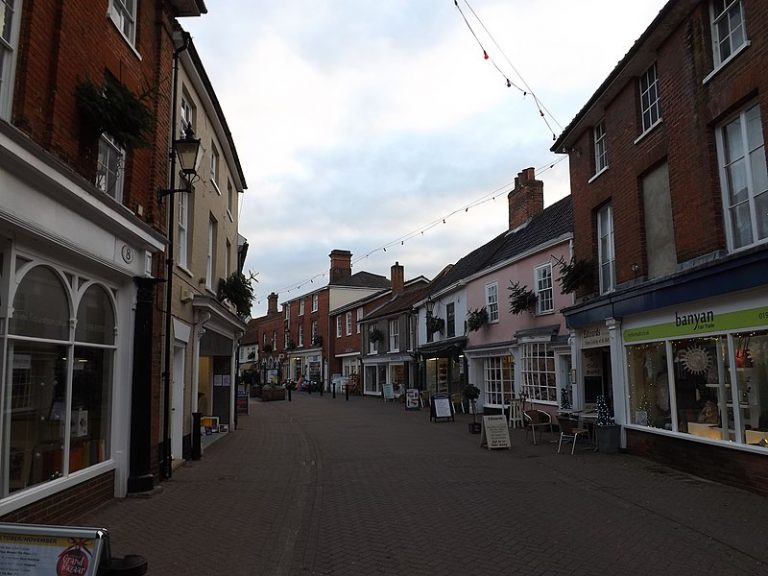 Halesworth is a town rich in heritage and history dating back to the Middle Ages. Granted market town status in 1222, Halesworth reached the peak of its prosperity when the River Blyth, on which it sits, was made navigable in 1756. This breakthrough greatly increased the town's trade particularly for the maltsters and brewers.
The historic wealth of Halesworth is clear in the many fine buildings in the town, ranging from a Tudor rectory, an Elizabethan almshouse and Gothic House, home of the Bedingfield family from 1540 with a jetted first floor, hooded windows and unusual Jacobean porch.
Halesworth today is a friendly and welcoming place to spend a weekend or holiday, as it is small enough to get to know quickly, but large enough to offer a range of things to do, and only 20 minutes to the beach at Southwold.
The town also benefits from a large number of independent shops, including a traditional toy shop (see below), two butchers and 2 greengrocers, an organic shop and cafe, a sweetshop, a Fairtrade clothes store, a delicatessan and lots of other delights.
The Thoroughfare is the pedestrianised main street that leads to the Market Place where markets take place every Wednesday. A Produce market is held in the Old Printworks on the second Saturday of each month, there is also a Brocante featuring antiques and curios held here on the first Saturday of each month. There is a large library which hosts lots of local groups, exhibitions and activities for children.
A visit to Halesworth should also include the
Halesworth Museum
, housed in the town's Victorian Railway Station. The museum exhibits artefacts from local history and geology, and has a special emphasis on the railway.
The Cut houses the vibrant community Arts Centre and is located in a former 19C malting building.
The Cut Arts Centre
offers a full programme of exhibitions, dance, theatre, music, workshops and courses.
There is plenty of choice for eating out and accommodation in the town. In the 19th century, Halesworth became a major centre for the brewing and malting industries, so you can expect some good ale here! The 16 century
Angel Hotel
has two bars and an excellent Italian restaurant so is well worth a view. The White Hart in the Thoroughfare is a real drinkers pub with tasty pub grub on the menu. The Boarding House restaurant in the Market Place serves excellent locally sourced dishes.
Halesworth boasts the largest green in the UK, consisting of a staggering 43 acres! This is grazing land that is part of the Blyth Valley Environmentally Sensitive Area, and is a haven for wildlife. In fact, the Blyth Estuary is one of the best spots around for
Birdwatching in Suffolk
. So Halesworth offers something for everyone from great shopping, through fine hostelries to kingfishers, otters and water voles!
For more information on the history of Suffolk, check out
All About Suffolk
For more great places for Suffolk Shopping, check out
Shopping in Suffolk
Check out what's on in Halesworth and the rest of Suffolk in our
What's On in Suffolk
page
Do you know something interesting about Halesworth? Have you been there? Where did you go and what did you do? Let us know all your comments and reviews by
Sending us an Email
.
---
Most Read Articles
Mothers Day in Suffolk
Find activities, gift ideas and special menus in Suffolk to show Mum how special she is.
We have a great many other interesting articles for you to read!