Lost Railways of Suffolk & East Anglia
Steam trains and old railway lines have a charm all of their own and few people can remain unmoved by the sight of a steam engine pulling liveried coaches across open country. Railway historian, LESLIE OPPITZ recreates this world in his newly revised, up-dated and expanded book LOST RAILWAYS OF EAST ANGLIA (Countryside Books £10.99). The book covers Suffolk as well as other parts of East Anglia.
Lowestoft, Suffolk, prospered as a seaside resort in the mid-1950s when up to 25 trains ran on Saturdays during the summer to and from Liverpool Street plus a holiday special for Gorleston.
A J Holden 2-2-2 oil-burner locomotive no 1008 with passenger set at Worstead station between Wroxham and North Walsham. Picture probably around 1905.
As early as the 1820s plans were put forward to build a line from London to York via Dunmow, Saffron Walden and Cambridge. At about the same time Eastern Counties Railways emerged with a proposal for a 126-mile line from Shoreditch to Yarmouth. Progress was slow, however, and a new line to Norwich was not completed until July 1845.
Haverhill, Suffolk, seen here c1910 with its complement of staff, was at one time where the rival Stour Valley and Colne Valley routes met. In 1862, when the GER came into being, a connecting line at Haverhill was built joining the two railways.
A steam locomotive, probably a 4-4-0 Beyer Peacock at Sutton Bridge, c1910. The station opened in July 1862 serving lines westwards beyond Spalding. By 1865 trains reached South Lynn and in the following year a line reached Peterborough via Wisbech.
The failure of Eastern Counties to press ahead and open up new lines meant that local towns began to promote plans of their own. A number of new railway companies were formed and in the second half of the 19th century East Anglia began to gain a network of important rural lines.
Hudswell-Clarke 0-6-0T locomotive no 2 on the Mid-Suffolk Light Railway approaches Mendlesham bound for Laxfield, probably 1908. The line was originally planned to reach Halesworth on the East Suffolk route but this never materialised.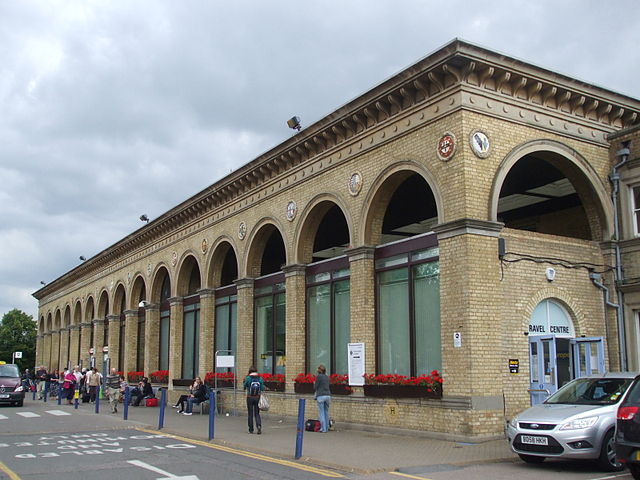 GER Cambridge station before motor transport took over. By the early 1920s three trains ran each way between Colchester and Mildenhall via Fordham on weekdays only.
In the early days passenger traffic was light although goods traffic provided an essential service to many agricultural areas. By the early 1900s business was booming and special seaside excursion trains brought hundreds of passengers from London to resorts along the coast. But it was not to last.
A quiet day at Aldeburgh station in 1952. Despite earlier optimism by the railway authorities, Aldeburgh in Suffolk had failed to develop as a major resort.
Colchester station c1910 on what is today's London to Norwich Intercity line. Until 1964 some eight trains ran each way daily from Colchester to Brightlingsea.
After the First World War competition came from motor buses and then from the private car although freight continued to use the railway network for a while longer. During the 1930s, however, lines began to close. The Second World War brought a brief respite as East Anglia's railway lines were used for the supply of petrol and bombs to the region's numerous airfields. Beeching's plan for the railways, published in the early 1960s, turned into a landslide of closures for East Anglia's rural lines.
The Bure Valley Railway's 2-6-2 'Blickling Hall' hauls seven passenger coaches out of Aylsham on the nine mile 15 inch gauge track towards Wroxham.
The'Chappel North' signal box at the East Anglian Railway Museum came from Mistley at a price of £5! The lamps on the platform are reproductions of the original.
In this well-researched and excellently written book, Leslie Oppitz explains the history of each line from its construction to the present day. Modern photographs accompany those taken when the railways were open and bustling. These, together with four specially drawn maps, will help enthusiasts to locate the 'lost lines' and railway stations that have survived from the heyday of the railway age. In addition the book covers the many steam preservation centres throughout the region.
Onlookers pose for the camera after a train has derailed at North Walsham station around the turn of the 20th century.
Norwich Victoria station c1910. The terminus was once part of the original Eastern Union line to Norwich which opened in December 1849. It closed to passengers in 1916 and remained mainly for coal and cement traffic. The old buildings have long since gone.
LESLIE OPPITZ lives near Oswestry and has been writing railway histories since taking early retirement. Titles in this series include Dorset, Hampshire, Kent, Stafordshire, Surrey and Sussex. He is also the author of three books on trams and numerous articles for newspapers and magazines. Leslie is regularly a guest speaker at local clubs and societies.
Yarmouth Beach station was the M&GN's terminus for trains from North Walsham, Fakenham and South Lynn, also from Lowestoft via a loop from Norfolk & Suffolk Jt rails. Yarmouth Beach closed in 1959.
LOST RAILWAYS OF EAST ANGLIA by Leslie Oppitz is published by Countryside Books at £10.99 and is available from all good booksellers, some local garden centres and attractions and direct from the publishers at
www.countrysidebooks.co.uk
.
You may also be interested in viewing the following - -
Suffolk in the Age of Steam
Suffolk Steam Trains and Railways
---
Most Read Articles
Mothers Day in Suffolk
Find activities, gift ideas and special menus in Suffolk to show Mum how special she is.
We have a great many other interesting articles for you to read!