Thorpeness (and Peter Pan!)
Thorpeness
If there was ever a village that deserved to be called 'fantastic' it is Thorpeness, built at the start of last century by a wealthy Scottish barrister with a penchant for mock Tudor and Jacobean architecture. Glencairn Stuart Ogilvie was a Scottish barrister who made his money designing railways and bought some land from north Aldeburgh to south of Sizewell where he created Thorpeness as a holiday village centred around the Meare.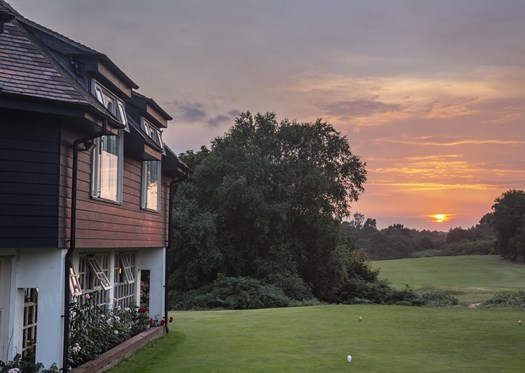 Thorpeness is full of quirky buildings, some of which are more than meet the eye. For example, Ogilvie ingeniously disguised the village's water tower as an overgrown house, the striking 'House in the Clouds' above, lest it offend the eye! This 5 storey house is still in use today and overlooks the golf course on one side, with views of the boating lake, village and beach on the others.
The Meare is an artificially created, shallow boating lake covering 3 acres, with several streams running off the main lake with landings marked with names on a Peter Pan theme. Tiny islands on the Meare contain locations found in J. M. Barrie's novel such as the Pirates Lair, Wendy's home and many others which children are encouraged to play on.
(Image courtesy of Sylvia Speak at robsyl87@tiscali.co.uk)
What can you spot in this one? Don't worry, it's not real!
J.M. Barrie fans of all ages can find his work realised at the Meare boating lake where islands and coves are given names taken from
Peter Pan
. It's no wonder he was inspired by this magical place, which is great fun for kids of all ages. The boating lake is open for hourly rowing boat hire from Spring until the end of Summer and occasionally in Autumn weekends on fine days (call 01728 832523)
Thorpeness
Thorpeness Lake
(Images courtesy of Sylvia Speak at robsyl87@tiscali.co.uk)
Thorpeness Hotel, Apartments & Golf Club
One of the great attractions of Thorpeness is the Thorpeness Hotel, Apartments & Golf Club which is a 1930s, Art Deco Hotel & Restaurant overlooking the Meare. There are 36 bedrooms, many with fantastic views of the Meare, the House in the Clouds, the beautiful gardens and the golf course.
In the Hotel's restaurant you can enjoy traditional British fare whilst watching other guests play golf – if you intend to play a round later in the day, this is the ideal spot from which to gain a few tips or to check out the competition! Golf tuition is available, and the course makes for a fun family activity, a great way to unwind, and also a unique corporate or society pursuit. Also on the grounds are 7 tennis courts and eye-catching landscaped gardens, so there's plenty to do in Thorpeness!
Thorpeness
The Thorpeness boating lake, Almshouses, library, beach and a large community centre are also prominent and attractive features of this village, which is an ideal holiday spot for families on the Suffolk Coast.
 Related Content

⇨Aldeburgh Guide
⇨Southwold Guide
---
Most Read Articles
Mothers Day in Suffolk
Find activities, gift ideas and special menus in Suffolk to show Mum how special she is.
We have a great many other interesting articles for you to read!