Dog Friendly Accommodation
Dog Friendly Accommodation in Suffolk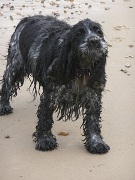 Just picture that ever-loyal nature, wagging tails, and big, soulful eyes staring back at you as you pack your bags. How could you ever leave your best friend at home when you go on a holiday? Fortunately, when you visit Suffolk, you will never have to. With so many dog-friendly accommodations and dining options Suffolk offers, you can pack the leash and some snacks and bring your fluffy friend along on your adventure.
Dog-Friendly Accommodation in Suffolk –
Bed and Breakfasts
/
Camping and Caravanning
/
Hotels
/
Self Catering
Dog-Friendly Accommodation in Suffolk – Bed and Breakfasts
There are lots of dog-friendly B&Bs; in Suffolk and we've highlighted some of them here – just click on the links for further information on each establishment.
Flindor Cottage
The beautiful 17th-century Hall house in
Flindor Cottage
is a Grade II listed luxury Adult bed & breakfast, offering only the highest standards in two stunning suites. Being fully licensed, Flindor Cottage allows guests to indulge in a world-class bottle of wine from the elaborate wine list while tasting delicious home-cooked meals. One of the favourite dinner options is, of course, the catch of the day from the proprietor's boat. Set in the peaceful village of Framsden in central Suffolk, near the A1120 Tourist Route, the Flindor Cottage offers easy access to the lovely towns of Woodridge and Framlingham, and the incredible Heritage Coast of Suffolk is a short drive away. Here, your four-legged friend can galavant through the stunning countryside and enjoy the friendly hospitality alongside you
.
Holbecks House,
a historic country house bed & breakfast, is situated on magnificent grounds, boasting awe-inspiring gardens, with parkland and the peaceful countryside surrounding the premise. Just a short while away lies the historic town of Hadleigh. Here, guests will find five bedrooms, of which four include en-suite bathrooms. The house is decorated with antique furniture and comfortable seating and offers conveniences, such as coffee and tea facilities, a TV, and soft linen and towels. Dogs and small children are welcome to join their parents at this charming accommodation and indulge in the breakfast sources from farm shops and local butchers alongside them
.

Newmans Hall Bed & Breakfast
in Sudbury, Suffolk, is the perfect location if you want to get away from it all. Dogs are welcome at Newmans if they are well-mannered, and they will enjoy walking around the beautiful gardens and exploring the tranquil countryside all around them. Their owners can enjoy spending the day at the tennis courts or in the indoor swimming pool after indulging in a delicious breakfast
.

There's another fantastic farm B&B near Yoxford,
Oak Tree Farm
, where you and your best friend can spend some quality time. On 6 acres, you may stay in a charming renovated Georgian farmhouse where you'll find modern comforts while your four-legged buddy attempt to find local muntjacs
.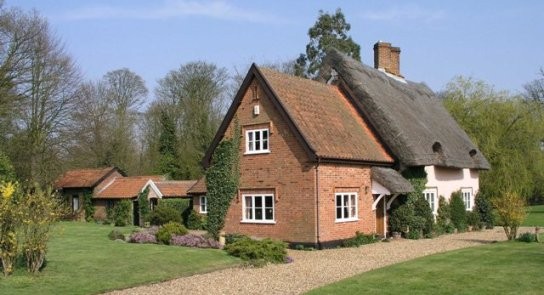 Thatched Farm B&B and Holiday Cottages
is an escape into the country, where you can relax in peaceful surroundings, within walking distance of Waldringfield and Woodbridge, the Deben River, world-class golf courses, and several dining options. The main house offers B&B, while the two cute cottages on the stunning grounds sleep up to three and two people, respectively – both warm and comfortable.
Check out
Dog-Friendly Suffolk B&Bs
to find a full list of all the dog-friendly B&Bs in Suffolk.
Dog-Friendly Accommodation in Suffolk – Camping and Caravanning
A camping experience isn't the same without a joyful wagging tail in your midst. Suffolk offers many pet-friendly camping and caravan sites so the whole family can partake in fun. Pack the toys and bones, and head out to any of these
All year round, Mollett's Farm, Saxmundham, a working farm certified by the Caravan Club, provides self-catering accommodation where pups are always welcome. The site is on level ground, provides electric hook-up points and water and disposal facilities, and is open to the public all year round. It is close to the Suffolk Coast and also offers easy access to Ipswich and Woodbridge and other destinations via the A12. Don't delay. Make your reservation now, as Mollet's Farm is very popular and might just be fully booked.
Polstead Camping and Caravanning Site
is on the border of a magnificent nature preserve near the charming towns of Sudbury and Hadleigh in Suffolk. You may either take it easy and enjoy the picturesque Suffolk countryside or go for one of the many dog-friendly activities nearby. This location is also a great choice if you're arriving from Harwich
.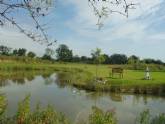 Those who want to take their dogs fishing may want to visit
Mill Farm
camping and caravanning Site in Saxmundham, where you can spend the day scouting for fish in the private pond. Those who are fascinated by plane spotting should venture to
The Willows Campsite
near the RAF sites found at Lakenheath and Mildenhall.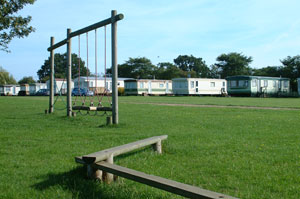 There's no better spot to relax and unwind than
Haw Wood Farm Caravan and Camping Park
,
Southwold. Located close to the beautiful beaches of Southwold, Aldeburgh, Dunwich, and Walberswick, this peaceful campground is excellent for a family holiday. Dogs are welcome, and there's even a big, fully fenced dog walking area where your furry friend can run and stretch his legs! The site is open between March and January, so be sure to book your spot.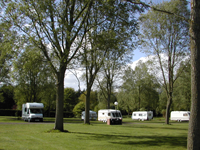 Situated near the charming market town of Woodbridge,
Run Cottage Touring Park
is a pretty family-owned caravan park on the outskirts of Hollesley. This friendly site is home to diverse wildlife and an abundance of fascinating native birds, from barn owls to majestic sparrows, frolicking ducks and fish to deer and rabbits. The park offers convenient facilities and an exciting Dog Exercise Area where your doggy can expel its energy.
Aldeburgh Basecamp
glamping is located in the centre of Aldeburgh and is an ideal option for families and dogs. Every unit is equipped with everything you need, including plates, cutlery, cooking utensils, high-quality bedding and comfy towels, as well as welcoming two small dogs or one of medium size
.
For a full listing of all dog-friendly camping and caravanning sites in Suffolk please see
Dog-friendly campsites
and
Pets welcome Caravan Parks
Dog Friendly Accommodation in Suffolk – Hotels
There are more hotels in Suffolk that welcome dogs than we can list, but here are a few to consider:
The Ship in Dunwich provides comfy accommodation with delicious homemade meals in its charming restaurant. Your four-legged friend will enjoy visiting here, as it is surrounded by nature reserves, heathland, and the beach, providing more than enough beautiful and spacious places to explore
.
The Brudenell Hotel
in Aldeburgh invites well-mannered dogs on leashes to participate in the fun the area offers. The Hotel is a wonderful escape from the monotony of daily life and is located on the beach in Aldeburgh, allowing your dog to enjoy frolicking in the water while your breathe in the revitalising ocean air.
For a guide to Suffolk hotels that welcome dogs please see Pet Friendly Hotels in Suffolk
For a full
list
of all dog friendly hotels in Suffolk please see Dog Friendly Hotels
Dog Friendly Accommodation in Suffolk – Self Catering
For that perfect home from home, self catering in Suffolk is a great option and many of our properties are dog friendly. Here are some of them –
The tiny hamlet of Foxearth, three miles from Long Melford and situated near the market town of Sudbury in Suffolk, is home to
Oakley's Cottage
, a wonderful countryside location for soaking up the picturesque scenery while taking lots of lovely walks with your dog. You'll discover a unique assortment of authentic period characteristics such as a massive inglenook fireplace with a wood-burning stove, timbered walls, Tudor brick floors, sloping ceilings, and pine and oak floorboards in this fifteenth-century cottage. The modern amenities such as underfloor heating, a fully-equipped kitchen, induction burners, two large ovens, and a big American refrigerator freezer are combined with Egyptian cotton linens and walk-in showers in addition to a bath for a relaxing soak. Moreover, a lower terrace beneath the pergola and a stunning garden area is an excellent spot for a man and his pet to enjoy the outdoors
.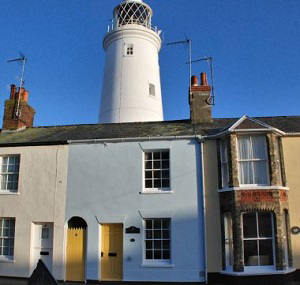 In the heart of Southwold,
Lighthouse View Cottage
is an inviting and comfy holiday cottage that offers four bedrooms and sleeps four. From the driveway of this lovely early-Victorian cottage, guests can enjoy a short walk to the beach and the promenade. In addition to being the ideal holiday destination, Lighthouse View boasts the landmark lighthouse of Southwold. In the immediate area, guests park for free, and obedient dogs and small children are always welcomed with open arms. During the warm summer months, dogs may be limited to particular beach areas, but beyond the beach, your furry friend can roam freely. There are many pet-friendly restaurants and pubs to visit in the area
.
Woodfarm Barns
is a pet-friendly location at its best. The owners of this lovely establishment are incredibly fond of dogs, and the premise offers a spacious environment where dogs can stretch their legs and roam freely while you enjoy a relaxing holiday. With six luxurious and distinct barns, you're guaranteed to find a room to your taste.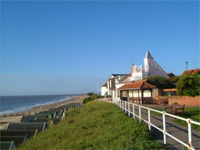 Acanthus of Southwold
has a large selection of dog-friendly accommodations in and around Southwold, where you can have a wonderful seaside holiday. A family-operated enterprise, they are sensitive to your requirements. Every day, your canine would love to run on the golden sand!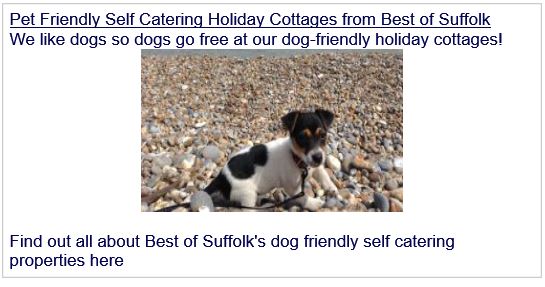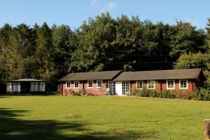 For an unforgettable self-catering break with your furry friend that won't drain your savings, consider
Suffolk Cabins
in Thornham Woods. You can find lodge-style bunk bed rooms with large communal areas that are perfect for families and groups on a budget who want to escape from everyday life and get away with their dogs
.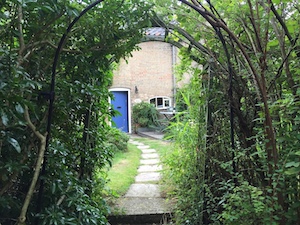 This is the perfect place for your pooch to kick back and relax while taking in the wonderful sights of Yoxford village life. Dogs will love walking on the nearby beach and stretching their legs in the tiny garden while also taking advantage of the village's pleasant ambience and proximity to the AONB, coast, and heaths. School Cottage, Yoxford sleeps two and is an excellent place to stay while exploring all the attractions between Southwold and Aldeburgh, which are about ten miles apart. See
Self Catering Cottage for two in Yoxford
for details.
Find a listing of
all Dog-Friendly accommodation
on the Guide here –
Pets welcome accommodation in Suffolk
and dog-friendly hotels here – Pet-Friendly Hotels in Suffolk
 Related Content

⇨ Dog-Friendly Suffolk
⇨ Dog-Friendly Beaches in Suffolk
⇨ Dog-Friendly Pubs in Suffolk


Have you stayed in Suffolk with your four-legged friend? Please send us a review of your stay to suffolkguides.admin@suffolktouristguide.com.
---
Most Read Articles

Easter Holiday Things to Do in Suffolk
Visit Suffolk this Easter to enjoy fun days out and family attractions.

Mothers Day in Suffolk
Find activities, gift ideas and special menus in Suffolk to show Mum how special she is.
We have a great many other interesting articles for you to read!
If you liked this you may also like these:
Dan's Meadow
Dan's Meadow Woodbridge, a picturesque riverside town close to the River Fynn, is the setting for a small family-run caravan park set in 3.5 acres of meadowland. Our aim is...
White Horse Camp Site
White Horse Camp Site The White Horse campground is located beneath the white horse, where there are beautiful flat fields and an abundance of wide-open spaces. A short drive away...