Dunwich

It's hard to believe that the small, sleepy village of Dunwich on the Suffolk coast was once a bustling city with a population of 4,000. However, at one time it was the unofficial capital of East Anglia and a bustling seaport with 8 churches, 5 houses of religious order, and was the port responsible for major trades including the export of wool and grain and the import of fish, fir and timber. Today Dunwich is a small village with a large shingle beach, a Heath & Forest stretching to Westleton in one direction and Walbersick in the other, with RSPB Minsmere alongside. So there's still plenty to see and do!

Settled between Walberswick and Southwold, this is a perfect location to launch a birdwatching expedition, as it is nearby to the birdwatching areas of Dunwich Heath and RSPB Minsmere. Also, during the Autumn months, you can see herds of deer on the Heath engaging in the annual deer rutting season. The sound of the strange groaning and belching sounds echoing across the Heath is unique, and you might also hear the clash of antlers as males show off their virility to potential mates. Like gladiators entering an arena, you can see them parading around showing off their armoury of antler to potential mates! Just come along to the Heath during October and November with your binoculars, or, if you prefer a guided tour see RSPB Minsmere as they offer deer safaris in the area.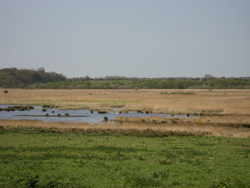 However, if you prefer a relaxing day on the beach with the family and pets (dogs allowed all year on the beach), there is a very attractive Coastal Path walk running paralell to the coast which runs for about 3 miles from the village car park to
Walberswick
. The car park is open all year round and it is free to park. There is also a public toilet open throughout the year situated at the top of the car park.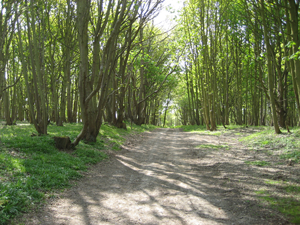 Dunwich

Dogs are allowed on the Coastal path throughout the year, but must be kept on a lead during the breeding season as it's part of a nature reserve – see Walberswick Nature reserve.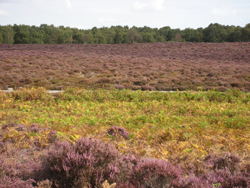 After all that exercise you'll need somewhere to recuperate and what better place than
The Ship, Dunwich
, which also provides accommodation for those too tired to leave. Colin, the chef, has been at The Ship for 17 years now, and is justly famous for his fish and chips – but there's plenty more to enjoy on The Ship's menu: steak and ale pie, lamb, pea and mint casserole, bread and butter pudding, chocolate roly poly and much more which are all accompanied by good wines at sensible prices, or proper beers and ales – including Adnams and a range of guest ales.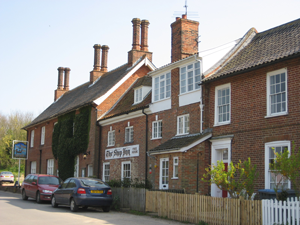 The Ship also offers accommodation so it's a great base to explore this lovely area of the Suffolk Coast.
Dunwich

From Spring to the end of November the beach cafe at Dunwich is open, offering a full range of refreshements, including fish & chips of course! There is also a large car park and public toilets open all year, so come to Dunwich for an invigorating stroll or even a dip!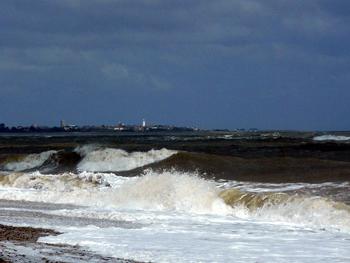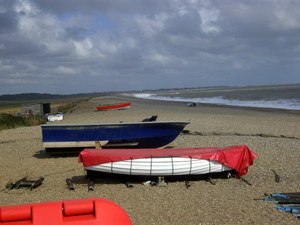 (images courtesy of Sylvia Speak robsyl87@tiscali.co.uk)
A bit of history
By 1086, just twelve years after the Norman Conquest, Dunwich was a thriving port, and just under a hundred years later, in 1173, Robert, Earl of Leicester, tried to land 3,000 Flemish troops here in an attempt to overthrow and depose Henry II and replace him with his son. His plot was delayed by the loyal residents of the village who turned the boats away when they tried to disembark. Because of this, the Earl of Leicester was forced to set sail again, finally landing at Orwell, a now long gone port east of Harwich. In appreciation of their actions, Dunwich was granted a royal charter in 1199, becoming a borough and gaining a council, magistrates, and officers.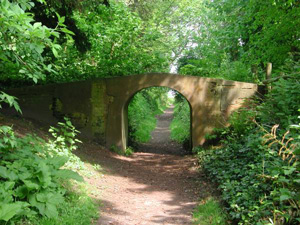 The village may have still been a much larger town, possibly even a city, if it hadn't been for several severe floods in the 13th & 14th centuries, which destroyed several of the churches and reclaimed portions of the land. Its proximity to the coast worked against it as well, and the sea ate away at it, leading to its almost complete abandonment by the 19th century. You can see from the cliffs today how the sea batters against the shore.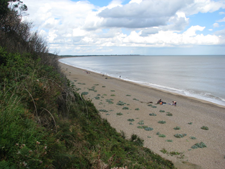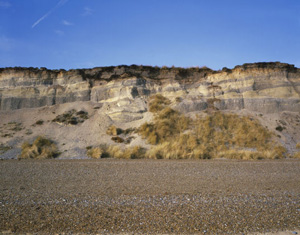 Dunwich

Due to its charter, the area was represented by two MPs, making it for a while one of the infamous 'Rotten Boroughs'. There are still clear reminders of its heyday, including the ruins of a Franciscan priory –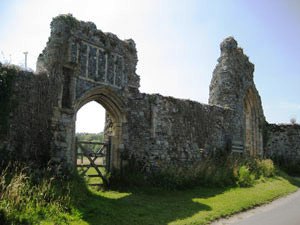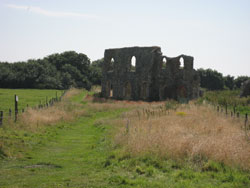 while the natural splendour of Dunwich Heath is still intact (see
Walberswick Nature reserve
for more information about these areas)
The Dunwich Museum
is next to The Ship & charts the story of the City-Town-Village through the centuries, taking the visitor through the Roman, Saxon, Medieval periods right up to date. There's a DVD put together with the help of some of the Villagers as 'extras', and also a natural history collection detailing some of the ecology in this AONB. You may not hear ghostly church bells tolling beneath the waves, but there is a Trail you can follow around the local sites including the Greyfriars friary and Church ruins.
The Museum is open from 11.30am – 4.30pm through the summer months.
Have you been to Dunwich? What did you think? Please let us know by
Sending us an Email
.
Your Comments and Reviews of Dunwich


I LOVED DUNWICH SO MUCH AS MY GRANDMA LIVED THERE. SHE WAS 1 OF 13 CHILDREN, I HAVE A PHOTO OF MY GREAT GRANDMA OUTSIDE HER COTTAGE. ALSO MY UNCLE REGGIE USED TO GO TO THE SHIP EVERYDAY ON HIS BIKE AGED 90, HE ALSO HAD HIS OWN CHAIR JUST INSIDE THE DOOR,
I HOPE ITS STILL THERE. MY FAMILY WERE THE SHEPHARDS.
VERY HAPPY TIMES.
STEPHANIE [WAS BEALES]
---
Most Read Articles
We have a great many other interesting articles for you to read!
If you liked this you may also like these:
Dan's Meadow
Dan's Meadow Woodbridge, a picturesque riverside town close to the River Fynn, is the setting for a small family-run caravan park set in 3.5 acres of meadowland. Our aim is...
White Horse Camp Site
White Horse Camp Site The White Horse campground is located beneath the white horse, where there are beautiful flat fields and an abundance of wide-open spaces. A short drive away...