Half Term Things to do in Suffolk
Half Term Things to do in Suffolk
Looking for activities for the children in Half Term? Suffolk is the place to be! There are plenty of events happening and Things to Do in Suffolk to keep the children entertained over Half Term.


October Half Term Mon 23rd – Friday 27th October 2017
Friday 20 October to Saturday 21 October – Haw Wood Farm Star Party, Family Star Gazing Event
Haw Wood Farm Caravans & Camping, Darsham, Saxmundham, IP17 3QT
Haw Wood Farm has been named a Dark Sky Discovery site due to its minimal light pollution. Twice a year we host star gazing events that attract astronomers from all over the country and also those keen to simply sit back and enjoy the night sky.
The weekend of 20th and 21st October we have our Family Star Gazing Event. This is a great introduction to the Sky at night and will be hosted by the Orwell Astronomical Society. It will include a tour of the night Sky, Talks with Q and A and late night Soup!
Please book online, see
Haw Wood Farm Caravans & Camping
Saturday 21 October to Sunday 29 October
Halloweenies – Kentwell's School of Sorcery & Magic
10:30am -12:00pm & 1:30pm – 4:30pm
Kentwell Hall, Long Melford, Sudbury, CO10 9BA
This October Half-Term, join us at Kentwell Hall, for our most fun children's event of the year. Kentwell's School of Sorcery and Magic will be opening for business, and accepting new students.
Come along for a morning or afternoon of fun filled magical learning including wand making, spell school and potions class. See
Kentwell Hall
for full information.
Ice Creams, Milkshakes, Sweets & Snacks!
The kids will love a trip to
Beaches & Cream in Southwold
this half term. There are all sorts of confectioneries goodies from around the globe to keep them happy plus scrummy ice cream milkshakes and drinks.
Saturday 21 October to Sunday 29 October – Pleasurewood Chills
From 10am
Pleasurewood Hills, Leisure Way, Lowestoft, NR32 4TZ
Join woody and friends for Halloween themed family fun this October half term (21st to 29th October).
Rides and attractions will be open around the park throughout the week and there will also be some Halloween themed fun to look out for. See
Halloween in Suffolk
for full information.
Saturday 21st October – Harry Panto & The Chamber Pot of Secrets
Abra Cadabra! With a wave of our wand we bring you this wizard production. Join our young magicians as they fight the dark lord in this spellbinding tale of good versus evil. Magical illusions, pop songs and things that go bump in the night all form the essential ingredients of this bewitching plot sure to delight youngsters and adults alike. A ghoulishly spooktacular parody production for this October half term that will stop you just Pottering about and leave you wanting Volde-More! See
Spa Pavillion
for more information.
Pennies From Heaven at Manning's Amusement Park
Stay dry while having fun at the most traditional of seaside activities. Manning's Amusement Park offers an indoor arcade with old favourites such as the penny pusher and casino area plus the latest in video games to keep children entertained this half term. Crazy golf and children's rides are great fun – whatever the weather.
Open every day from 10am
Mannings Amusements

Saturday 21 October to Sunday 26 November – The 9th Annual Sci-Fi and Action Exhibition
10-5pm, Sun 10-4pm. Moyse's Hall Museum, Bury St Edmunds, IP33 1DX. Tickets: £5 Adults, £3 Children
Main exhibition sponsors – Kudos Memorabilia
Bringing a taste of Hollywood to the region with screen-used props, screen accurate replicas, original artwork and much more from the world of Sci-Fi & Action including Dr Who, Marvel, DC comics and others! This year's exhibition marks the 40th anniversary of two iconic Sci-Fi brands; Star Wars, and the UKs most ground-breaking comic, 2000AD. See screen-used costumes… Wolverine's adamantium claws as worn by Hugh Jackman in £X-Men: The Last Stand (2006), Halle Berry's Storm costume from X-Men film (2000) Captain Jean-Luc Picard's uniform worn by Patrick Stewart in the hit TV series, Star Trek: The Next Generation (Season 1 & 2), Karl Urban's hero costume from Dredd (2012)
Launch Weekend – 21 & 22 October
– Meet the galaxy's most feared Bounty Hunter – Boba Fett – as actor Jeremy Bulloch will be joining us for the Launch weekend, signing for fans and chatting about his time in the original saga. (Additional charge for autographs). Take photos with our team of cosplayers, feel free to come dressed up yourself! LEGO build area and competitions
Explore nature with a visit to the RSPB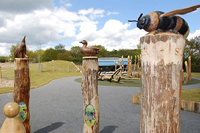 Suffolk has many fantastic RSPB sites and nature reserves, many have special activities on over school holidays and all are family friendly. Click on the link above to find the site nearest to you.
Saturday 21 October to Saturday 28 October – Halesworth Half-Term Treasure Trail & Scarecrow Week
Halesworth Town Centre, IP19 8AH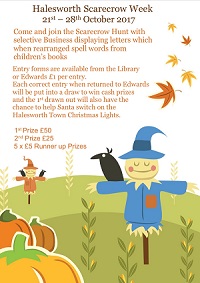 The Half-Term Treasure Trail for children (of all ages) will be taking place in Halesworth again this October. Shops and businesses in the town centre will have letters hidden in their windows which, this year, will make up the titles of children's books. Those with all the correct answers go into a prize draw, with the grand-prize being the honour of switching on Halesworth Christmas lights on Saturday, November 26th, plus a £50 cash prize. There will also be prizes for the runners up. Entry forms cost £1 and will be available from the library and Edwards restaurant, both located in the Thoroughfare. All monies raised will go towards the fund for Halesworth Christmas Lights. There will also be competitions and
special offers
available in many of the shops, so keep an eye out for half-term treats. Now in its 8th year, Halesworth Scarecrow Weekl goes from strength to strength, with business owners vying to produce the most eye-catching and ingenious scarecrow. Who will win the coveted trophy of best scarecrow in town? Well that's up the children of Halesworth and the surrounding village who will vote for the winner.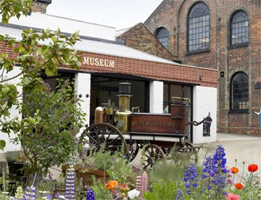 Half Term Week at the Long Shop Museum
Join us for family trails around the museum with a prize at the end. Our Final Fling is on
Sunday 22nd October
and we will once again mark the end of the season with a spectacular steam and activity day with full size and miniature engines being demonstrated in all their working glory. It runs from 11am to 4pm and highlights how the museum's site in Leiston's former Garrett Engineering Works, was a hub of industrial production with the design and manufacture of a prolific and diverse array of magnificent machines. Home-made refreshments available in our pop up vintage tea-room and there will also be a bar on site with a selection of real ales. Ticket prices are £8 / £5 and annual passes will not be valid for entrance on event days. Don't forget to come along for our Family Workshop Wednesday on
25th October
when we will have experts on hand as part of National Honey Week, to help those under 12 learn all about this precious and very special local resource. For full information, see:
Long Shop Museum
Pennikkity Pots Ceramic Painting Cafe, Ipswich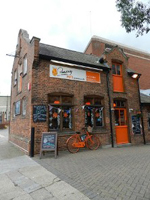 Choose a ceramic from a wide range then get busy painting! It can be hand glazed and fired on the premises, and sent to you or picked up when it's ready to go. There's also a cafe with yummy home baked cake and sandwiches. For more information, click the link above.
Monday 23 October – The Cooking Club Half Term Halloween Workshops!
10am – 12.30pm & 2.30pm – 5pm
The Cooking Club, Suffolk Food Hall, Wherstead, Ipswich, IP9 2AB
Come and cook a delicious autumnal dish from scratch, and a spooky Halloween-themed pudding!
Suitable for children aged 8 – 14 or younger children (over 5s) are welcome when accompanied by an adult. Advance booking is essential – please see
The Cooking Club
for details.

Monday 23 October to Friday 27 October
School's Out Activities – October Half Term Camp
Ipswich High School, Woolverstone, Ipswich, IP9 1AZ
School Holiday Activity Days for children aged 4-16 years! Holiday Camps designed to improve health, fitness and develop self-esteem through delivering a jam-packed timetable of fun, active & educational activities. Early Explorers (4-6yrs), Adrenaline Adventure (7-12yrs), Creative Crew (7-12yrs), Next Generation (13-16yrs). Every child also gets to swim everyday at Ipswich High School Woolverstone in an amazing heated indoor pool. With lifeguards poolside, inflatables and pool games, there is much fun to be had at School's Out! £30 per day or £120 per week (full 5 days)
Bookings online at www.schoolsoutactivities.co.uk
Email: info@schoolsoutactivities.co.uk
Phone: 07766220075
Meet the Suffolk Punch Horses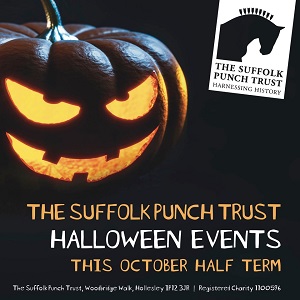 Monday 23rd – 29th October, Halloween activities at The Suffolk Punch Trust
Join us for a spooky week of activities during October Half Term! (CLOSED TUESDAY)
Children's Paint a Pumpkin (Donations Welcomed). The Visitor Centre and Woodland walk will be transformed into a spooky and ghoulish site where there will be lots of fun and frights to be had by all the family. Just make sure to watch out for any witches, ghosts and skeletons as you wander around! Participation free (standard admission applies, annual passes valid for entry).Click the link above to plan your visit.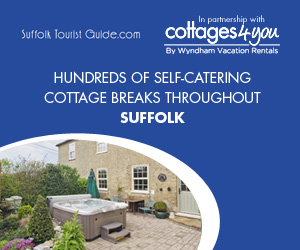 Wednesday 25 October – Jazz up Your Jungle Pumpkin
10.00am – 4.00pm
Urban Jungle Plant Nursery and Cafe, London Road, Beccles, NR34 8TT
Join us on the 25th and 27th October and Jazz up your Jungle Pumpkin, surrounded by exotic and unusual plants in our brand new event tent. For £5, we'll provide the pumpkins, paints and accessories and Clare Fairy-Jacobs will be on hand to help design and decorate beautiful pumpkin centrepieces for your home and garden. Just turn up!
Friday 27th – Sunday 29th October, Go Ape Half Term Spooktacular
Go Ape, High Lodge, Thetford Forest, Brandon, IP27 0AF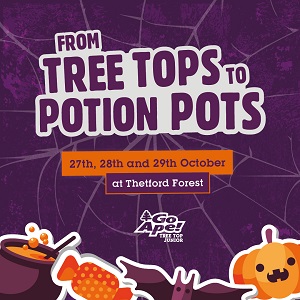 Watch your little monkeys fly this Half Term with a Tree Top Junior experience alongside free Halloween activities. As well as the hour-long Tree Top Junior adventure for your mini-Tarzans, participants will also have access to other free festivities happening on the forest floor. From face-painters to story tellers, to spider web crafts and fancy-dress competitions, there's plenty for the family to do. What's more, if you can solve all the riddles hidden around the forest on the day, you'll be in with a chance of winning a year's worth of Go Ape adventures*. So why not swing by Go Ape, Thetford Forest, this Halloween for a spell? For venue information and details of our
special 20% off offer
see
Go Ape, Thetford Forest
Come and meet the animals at Jimmy's Farm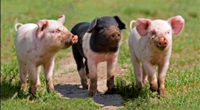 Join Jimmy down on the farm for lots of fun this half term, pet the animals, woodland walks, play areas, yummy restaurants and lots more. Check it out here –
Jimmy's Farm, Ipswich
What's on over Half Term in Suffolk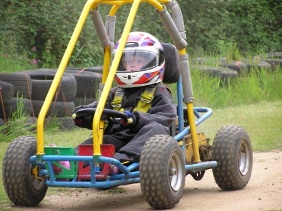 For a thrilling day out for all the family, whatever the weather try
Beacon Rally Karts
. They offer off road karting for everyone between 5 and 75 years old! For booking and details click on the link above.

Children's Rainy Day Activities in Suffolk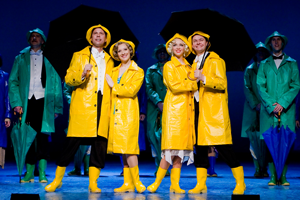 We all expect – and hope! – to have sunny days throughout Half Term but just in case the weather lets us down here are plenty of things to do on rainy days in Suffolk – just click on the link above to discover them
What's on over Half Term in Suffolk
If you liked this you may also like these:
Dan's Meadow
Dan's Meadow Woodbridge, a picturesque riverside town close to the River Fynn, is the setting for a small family-run caravan park set in 3.5 acres of meadowland. Our aim is...
White Horse Camp Site
White Horse Camp Site The White Horse campground is located beneath the white horse, where there are beautiful flat fields and an abundance of wide-open spaces. A short drive away...