Old and Rare Photos of Suffolk
Old and Rare Photos of Suffolk
Old and Rare Photos of Suffolk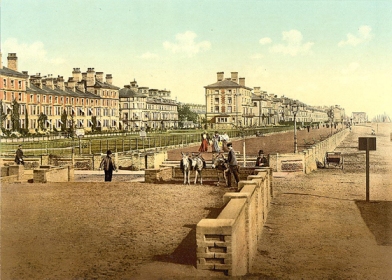 Old Photos of Suffolk: Lowestoft, The Terrace
Suffolk is a wonderful county packed to the brim with mile after mile of picturesque countryside filled with beautiful and rare wildlife; an unlimited number of exciting and informative attractions for all the family; numerous shops,
hotels
, restaurants, cottages, museums and beaches; and – of course – Suffolk is rich in history and character. Wouldn't it be amazing if you could travel back in time to get a glimpse of what Suffolk was like in ye olden days? Continue reading this article, which features a brief overview of some lovely Suffolk towns alongside fascinating photos, to do just that!
All of the photos featured in this article were downloaded with kind permission from
VisitThePast.co.uk
– kindly click on this link to view many more old Victorian and Edwardian photos of Suffolk as well as an enormous selection of fascinating old photos from all over Great Britain.
***Please note: all photographs in this article are Copyright Dave Upton. Downloading and copying is prohibited.
For other, more modern, photos of Suffolk and Suffolk attractions, please see
Photos of Suffolk
Old and Rare Photos of Suffolk: LOWESTOFT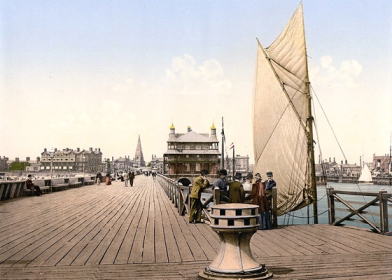 Old Photos of Suffolk: Lowestoft
Lowestoft is today a beautiful and traditional seaside town on the most easterly point of the British coast. Lowestoft has held on to its roots whilst also venturing into a modernisation that consists of a multitude of attractions, shops, restaurants and accommodation that all add up to make it the perfect family holiday location.
Lowestoft is Suffolk's second largest town, and was a fishing port from the Middle Ages right up until the 20th Century. Today it is renowned for its breath-taking sandy beaches that come complete with good old fashioned donkey rides. Lowestoft has two piers: the Claremont Pier, once serving as a port of call for ships travelling to and from London, and the South Pier. Lowestoft has been subject to periodic flooding; the most notable was in January 1953 when a swell in the North Sea created by low pressure and a high tide flooded most of the southern town.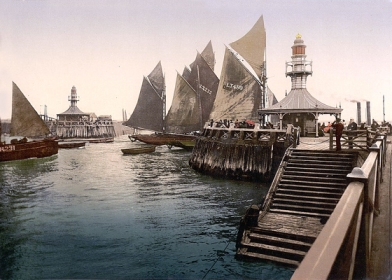 Old Photos of Suffolk: Lowestoft
Lowestoft had an unfortunate part to play in both World Wars. It was bombarded by the German Navy in 1916, and, during World War II, it was used as a navigation point by German bombers. As a result, it was the most heavily bombed town in the UK. Old mines and bombs are still being dredged up today.
Lowestoft is also famous for its porcelain – previously produced in the 18th Century – which consisted of mainly domestic wares designed for a middle class audience and is now extremely valuable and popular with collectors. Lowestoft collectors divide the factory's products into three distinct periods, Early circa 1756 to 1761, Middle-Period circa 1761 to 1768 and Late-Period circa 1768 to the closure of the factory in 1799.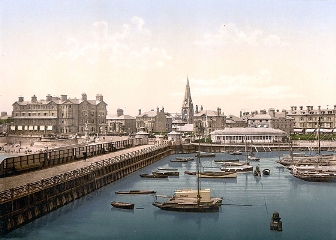 Old Photos of Suffolk: Lowestoft Inner Harbour
Despite its ill-fated history, Lowestoft remains a firm family-holiday destination with many an attraction to offer – not least the Lowestoft Air Festival, and the Honda Formula 4 Stoke Series, each held every year. For more details on these two exciting events please see
Suffolk Festivals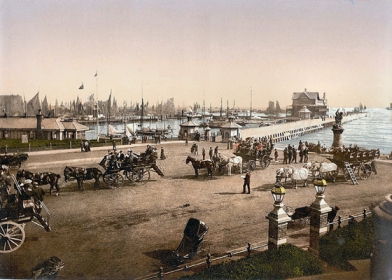 Old Photos of Suffolk: Lowestoft, The Pier
Please click here for our tourist guide article to the town of
Lowestoft
, and also click on the following links for more information:
Guide to Accommodation in Lowestoft
Guide to Activities in Lowestoft
Old and Rare Photos of Suffolk: SOUTHWOLD
Southwold is another highly popular seaside town in Suffolk, featuring areas of breath-taking natural beauty and original architecture. Southwold sits on a hill surrounded by the Blyth Valley and the River Blythe, giving it the effect of being an island.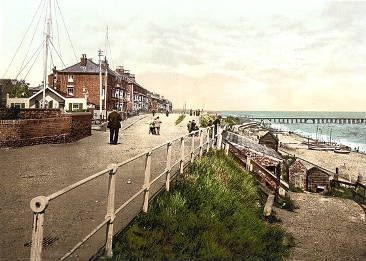 Old Photos of Suffolk: Southwold
Southwold has a number of preserved greens. These greens represent the original locations of various buildings that were destroyed in the 1659 a fire that ruined much of the town. Today these greens, and the restriction of expansion because of the surrounding marshes, have preserved its genteel appearance.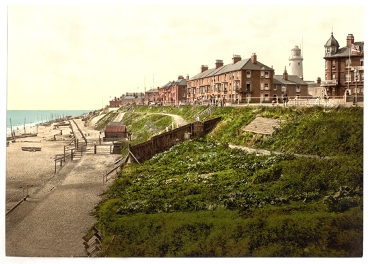 Old Photos of Suffolk: Southwold, North Parade
On the green just above the beach there is Gun Hill, which was host to the Battle of Sole Bay, fought in 1672 between English and French fleets on one side and the Dutchon the other. Southwold Museum has a collection of information on and memorabilia from the event. During World War II, the cannons on Gun Hill meant that Southwold gained the status of "fortified town". As such, Southwold became the target of many bombing raids by Germany.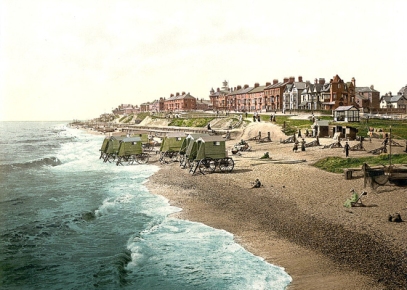 Old Photos of Suffolk: Southwold
Another landmark is Southwold lighthouse, constructed in 1887. It replaced three local lighthouses which were under serious threat from coastal erosion. The lighthouse is unusual in that the light itself is switched on and off in sequence, rather than the more usual rotating beam.
Southwold Pier was built in 1900, was practically destroyed by a gale in 1934, and had a major refurbishment in 2001. Whilst many English seaside piers are in decline, Southwold Pier is enjoying renewed popularity. It includes a collection of modern coin-operated novelty machines as well as other traditional seaside amusements and facilities.
Also, don't forget to check out the brilliant Laugh in the Park Comedy Festival, the
Latitude Festival
and the Festival of the Sea – all held yearly in Southwold. Please see
Suffolk Festivals
for full details of these great festivals and more.
Please click here for our guide to the wonderful town of
Southwold
.
Please also see our article on to Hotels in Southwold, as well as our guides to:
Accommodation in Southwold
Attractions in Southwold
Eating Out in Southwold
Pubs in Southwold
Shopping in Southwold
Old and Rare Photos of Suffolk: FELIXSTOWE
Felixstowe is a lovely seaside village on the North Sea coast. The seafront is over four miles long with a wide promenade that stretches almost the entire length of the beach from Languard Point to Felixstowe Ferry. The village gives its name to the nearby Port of Felixstowe, which is the largest container port in the United Kingdom, and is situated across the estuary of the River Orwell and River Stour.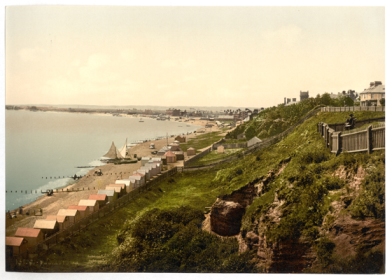 Old Photos of Suffolk: Felixstowe East Cliff
Felixstowe – once named Walton – played a huge role England's defence, as proved in 1667 when Dutch soldiers landed and failed to capture
Landguard Fort
. The town became a major port in 1886, at which point tourism increased and a pier was constructed in 1905. During the Second World War the majority of the pier, at the time one in the longest in the country, was intentionally demolished to prevent it being used as an easy landing point for enemy troops. Although the pier is now unsafe to walk on it makes a wonderful sight for tourists and locals alike. Similarly, Felixstowe has much old-world charm as it has retained many of its aesthetically-pleasing Victorian and Edwardian houses and hotels.
Felixstowe is also home to the wonderful
Felixstowe Drama Festival
. Please see
Suffolk Festivals
for more details.
Please click here for our tourist guide article on
Felixstowe
Please also see:
Guide to Attractions in Felixstowe
Guide to Accommodation in Felixstowe
If you have any old or rare photos of Suffolk towns and buildings that you would like to share please contact us at
suffolkguides.admin@suffolktouristguide.com
.
---
Most Read Articles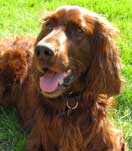 We have a great many other interesting articles for you to read!
If you liked this you may also like these:
Dan's Meadow
Dan's Meadow Woodbridge, a picturesque riverside town close to the River Fynn, is the setting for a small family-run caravan park set in 3.5 acres of meadowland. Our aim is...
White Horse Camp Site
White Horse Camp Site The White Horse campground is located beneath the white horse, where there are beautiful flat fields and an abundance of wide-open spaces. A short drive away...