Shotley Peninsula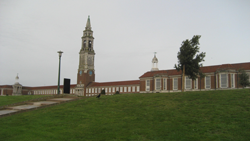 (
Royal Hospital School, Holbrook
)
Shotley Peninsula is an awe-inspiring location between the River Orwell and the
River Stour
in Suffolk. Its name is taken from Shotley Parish, which can be found at the south-easterly end of the Peninsula. Shotley village is approximately one mile northwest from the tip of the peninsula.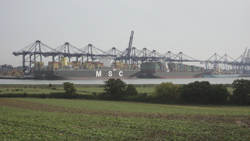 The two rivers meet at the point at Shotley Gate and merge to join with the North Sea. With the Docks at
Felixstowe
on the north bank and Harwich Harbour to the south, the views on offer are spectacular to behold. For those who enjoy watching cargo ships and sailing boats this is an ideal destination. Additionally there are a lot of well marked cycle paths and walks in the area, so something for everyone.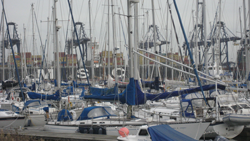 Shotley Marina with cargo containers in Felixstowe Port in the background
Other villages found on the Shotley Peninsula include: Erwarton, Arwarton, Stutton, Pin Mill, Chelmondiston, Harkstead, Holbrook, Freston, and Woolverstone.
There is much to see and do when visiting Shotley Peninsula, such as – –
Shotley Marina

Shotley Marina is situated at the meeting point of the Rivers Orwell and Stour. Yachtsmen can explore these rivers or access the open sea and plot trips to local harbours. For the adventurous, longer passages to the continent are an option without having to motor or sail for a couple of hours to the mouth of the river.
A great pub and restaurant, The Shipwreck, is on the Marina, offering excellent food & drink plus fantastic views.
For more information, please see Shotley marina.


The HMS Ganges Museum

The HMS Ganges Museum is home to impressive and fascinating memorabilia from the old shore establishment including honours board, figurehead, clocks and a large collection of photographs and original documents relating to life at Shotley.

Contact: The HMS Ganges Museum, Shotley Marina, Shotley, Ipswich, IP9 1QJ
Website: www.hmsgangesmuseum.org.uk


Walking

There are many walks around the Peninsula including a coastal footpath that starts from the Orwell Bridge, and a short walk from Woolverstone Marina to Pin Mill. Please continue reading for more information on Pin Mill.


Cycling

The twisting and turning roads and lanes of the Peninsula are perfect for all levels of cyclist, with fantastic views to be seen from every angle.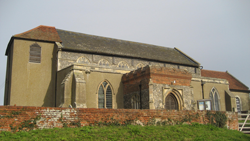 Shotley Church
Stutton

Stutton is a serene village situated in and surrounded by farming country. It was recorded in the Domesday Book as "Suttuna". The land between the village and Tattingstone has been flooded in modern times to create Alton Reservoir (see below). There are pleasant walks to be enjoyed around the reservoir, to the river Stour and alongside the Elizabethan Sutton Hall. The watermill dates from the 17th century.
In 1933, erosion of the Stour riverbank exposed an Iron Age refuse pit. Many items were found, including a bowl, a goat's skull and fragments of a stove. Wooden piles found at Graham's Wharf are believed to be the remains of a Post Medieval wharf structure.
This traditional English village has two pubs and is alongside Alton Water –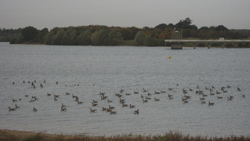 Alton Water reservoir
Alton Water

Alton Water is a reservoir filled with wildlife and offers a variety of activities for the whole family such as sailing, windsurfing, routes for walks (including a circular walk of approximately 9 miles around Alton Water) and cycling (including off-road routes), plus cycle hire and a variety of training courses for all of the previously mentioned activities.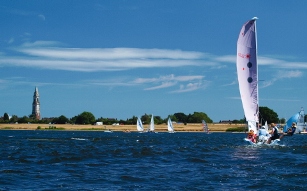 Alton Water
Alton Water is also the destination for the Great Eastern Swim each year when brave souls swim the length of this substantial Reservoir. However please note that for the rest of the year you cannot swim in this water.
Holbrook

Holbrook is a village close to the northern shore of the River Stour. The village has a selection of pubs, shops and the Peninsula Sports Centre. Holbrook creek is a beautiful place to relax, enjoy the scenery, take a walk along the shoreline and stop to have a picnic. It is also home to a great variety of birds, making it a favourite spot for bird watching all year round.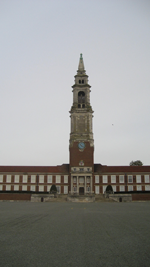 The village is dominated by the substantial and impressive buildings of the
Royal Hospital School, Holbrook
, which appear to have been transported from Greenwich! The School is a leading independent full boarding and day school for approximately 700 pupils and it was founded in 1712 in Greenwich, but it moved to its present site set in 200 acres of Suffolk countryside in 1933.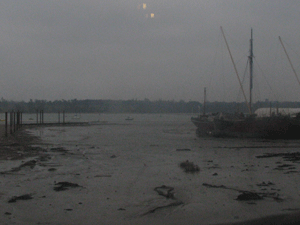 Pin Mill

Another lovely village to visit is Pin Mill, where you can take leisurely strolls along the river and see the house boats and sailing barges.



Pin Mill is also home to The Pin Mill Studio, which is a fantastic arts space and also serves delicious cream teas and holds monthly photography and painting courses.
Woolverstone

Woolverstone is situated either side of the Ipswich to Shotley Road in the Babergh district of Suffolk, close to the southern shore of the Orwell estuary. Although the village has no pubs or shops, it has a Grade II listed Village Hall, St Michaels's Church, and a lovely marina that are all well worth a look, plus a number of listed buildings such as Woolverstone House, a gothic Grade II listed House, and Woolverstone Hall, a large Grade I listed country house just five miles south of Ipswich, set within 80 acres on the banks of the River Orwell. In 1992 Ipswich High School for Girls moved to Woolverstone Hall.


Harkstead

Harkstead is located on the northern bank of the River Stour at Holbrook Bay, and is also part of Babergh district. Half the village is covered by the Dedham Vale Area of Outstanding Natural Beauty, perfect for those of you wanting to take in the scenery. Large areas of the parish are classified as Scheduled Monuments due to the presence of post-medieval field boundaries and Roman field systems.


Freston

Freston is a small village 4 miles from Ipswich and is bordered by the River Orwell and the parishes of Holbrook and Woolverstone. The village is home to the spectacular Freston Tower, a six-story red brick folly that stands on the banks of the River Orwell. Freston Tower was donated to the Landmark Trust, a charity that rescues and restores historical buildings, and is currently available to let as a holiday home.
---
Most Read Articles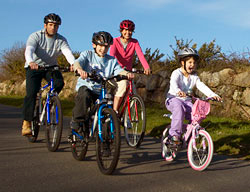 Mothers Day in Suffolk
Find activities, gift ideas and special menus in Suffolk to show Mum how special she is.
We have a great many other interesting articles for you to read!
If you liked this you may also like these:
Dan's Meadow
Dan's Meadow Woodbridge, a picturesque riverside town close to the River Fynn, is the setting for a small family-run caravan park set in 3.5 acres of meadowland. Our aim is...
White Horse Camp Site
White Horse Camp Site The White Horse campground is located beneath the white horse, where there are beautiful flat fields and an abundance of wide-open spaces. A short drive away...