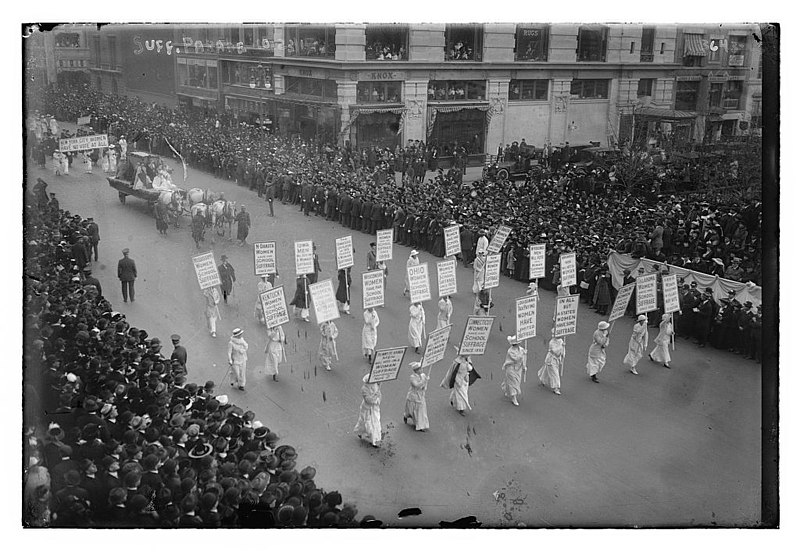 Did you know that two leaders in the Women's Suffrage movement lived in Suffolk?
Millicent Garret Fawcett was the daughter of Louise Dunnell and Newson Garrett and was born in Aldeburgh in 1847. Her father was the owner of a pawnbroker's shop that was situated in London, but he then bought a coal and corn warehouse in the town of Aldeburgh. Garrett soon became a very rich man by 1850 as his business was a great success.
Elizabeth Garrett, Millicent's older sister, met Emily Davies, a woman who was passionate about women's rights, during a visit to London in 1854. She was then introduced to many other young women with similar opinions.
Elizabeth Blackwell's achievement in becoming the first female doctor in America inspired Elizabeth in 1859. Her parents were initially against her pursuing a medical career, but her father finally concurred with her desire to become England's first female physician.
It is difficult for us to appreciate now, but Garrett tried to study at several medical schools when she moved to London to become a doctor. Because Garrett was a woman, they all turned her down. Garrett thus became a nursing student at Middlesex Hospital and took the male doctors' lectures. After many male students complained, Elizabeth was barred from the lecture hall!
However, as soon as Garrett learnt that the Society of Apothecaries does not explicitly prohibit women from taking the exams, she wrote the examination and passed it in 1865. The moment Garret received her certificate and could practice medicine, the Society of Apothecaries altered its regulations to ensure that other women couldn't practice medicine in the same way. Elizabeth Garrett was only able to set up a medical practice in London with the financial assistance of her parents.
Millicent became acquainted with individuals who had radical political views when she visited London to stay with Elizabeth along with her other sister, Louise. Millicent was taken by Louise to hear John Stuart Mill, the Radical MP, speaking on women's rights in 1865. Millicent was deeply affected by Mill, just as her sister Elizabeth had been. She became one of his many devoted fans. Elizabeth Garrett organised a discussion group for women called the Kensington Society in 1865 with her friends Dorothea Beale, Emily Davies, and Francis Mary Buss. The year after that, they set up a petition requesting that Parliament allow women to vote.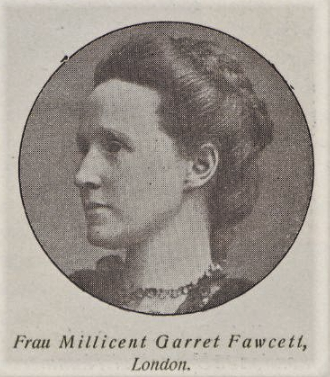 John Stuart Mill and Henry Fawcett, two Liberals, supported the women despite Parliament's refusal to accept the petition. In 1857, Fawcett, a Radical MP for Brighton who had been blinded in a shooting accident, asked Elizabeth for her hand in marriage. She refused because she thought it intervene with her career. Millicent Garrett became his wife in 1867.
During the next few years, Millicent Fawcett assisted her husband, Henry Fawcett, in his work as a member of parliament. Henry, an ardent advocate of women's rights, inspired Millicent to pursue her own profession as a writer. Millicent began by writing articles for journals but later started writing books, including Essays and Lectures on Political Subjects and Political Economy for Beginners.
In 1868, Millicent Fawcett joined the London Suffrage Committee. Though not a particularly gifted orator, Millicent was a first-rate organiser and, by the early 1880s, had become one of the chief suffragettes. Millicent was involved in establishing Newnham College, a women's college at Cambridge, through organising women's lectures.
During the 1880s, Henry Fawcett's political career was also prospering. William Gladstone, the Liberal government's leader, appointed him to be the Postmaster General. In addition to developing postal orders, parcel post, and the sixpenny telegram, Fawcett, as Postmaster General, began hiring female medical officers.
In 1884, Henry Fawcett succumbed to pleurisy after being badly weakened by diphtheria. Millicent, therefore, had more time to devote to her political career. After Lydia Becker died in 1890, Millicent became president of the National Union of Women's Suffrage Societies. In addition to campaigning for a range of issues, Millicent Fawcett believed that the NUWSS should help Josephine Butler in her fight against white slave trafficking. Clementina Black received support from Fawcett in her endeavour to convince the government to protect women workers of low income.
Millicent Fawcett, who had always been a Liberal, became increasingly annoyed at the party's lack of commitment to women's suffrage. Despite being one of the party's leading figures, Asquith was an implacable opponent of women's suffrage in 1908, when he became Prime Minister. Millicent and the NUWSS decided to start supporting Labour Party candidates in the elections in 1912. Despite Asquith's refusal to legislate, Fawcett remained committed to using constitutional means to gain votes for females.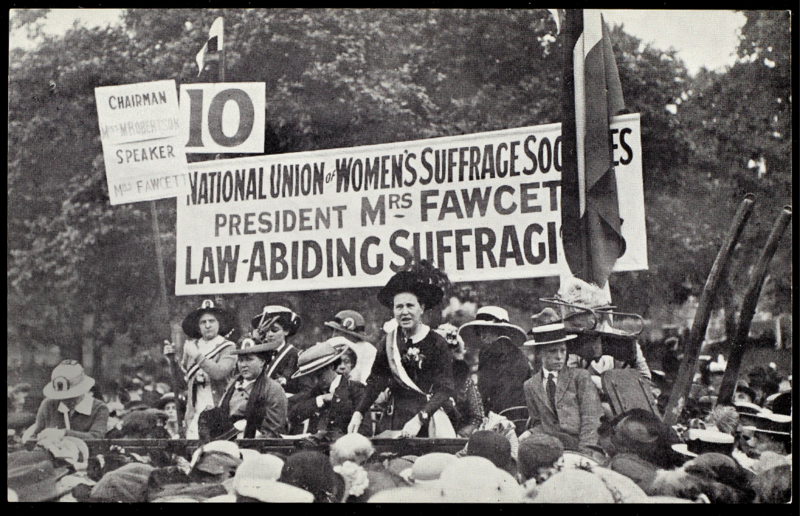 Because of her concern that the militant tactics of the Women's Social and Political Union (WSPU) would turn people against women's suffrage, Fawcett refrained from supporting that radical organisation. Despite her admiration for the suffragettes' courage, Fawcett was careful not to criticise the WSPU.
Elizabeth, her sister, joined the WSPU in 1908 when she was 72 years old. She was fortunate not to be arrested in 1911 after joining other members of the WSPU to invade the House of Commons. Elizabeth dropped out of the WSPU in 1911 because she disapproved of their arson programme.
Louisa Garret Anderson, Elizabeth's daughter, ended up in prison in 1912 for her militant doings, along with Sylvia and Christable, who were Emmeline Pankhurst's daughters.
In 1914, a couple of days after the UK declared war on Germany, the NUWSS announced that they would be suspending any activity until the conflict was resolved. Despite supporting the First World War effort, Fawcett did not adhere to the WSPU tactic of encouraging men to enlist.
Asquith finally came over to the cause of women's suffrage in 1916, recognising their vital function in the struggle. He said at the time that he could no longer justify keeping them from the polls. In 1919, Fawcett led a delegation to Asquith's successor to ensure that promises would be fulfilled. The Representation of the People Bill was passed in February 1918.
Millicent dedicated herself to writing after the war, producing biographies such as Josephine Butler in 1927, The Women's Victory in 1920, and What I Remember in1924. She passed away in 1929.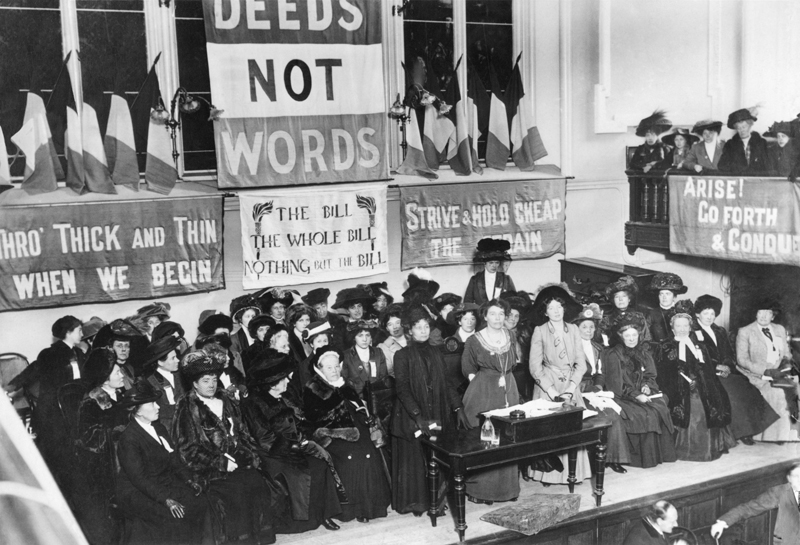 During this time, Elizabeth Garret married a man named James Anderson, who was a prosperous financial advisor and businessman. She kept her maiden surname as many other feminists did at the time. James Anderson's attempt to take charge of Elizabeth's income became an issue, although he had supported her desire to continue practising medicine.
She birthed three children named Louisa, Alan, and Margaret, who passed away due to meningitis. Despite this tragedy and her busy life, Elizabeth continued to pursue her career and later established the New Hospital for Women, where she employed only female workers. Elizabeth Blackwell, whose story inspired Garret Anderson to become a physician, was designated as the professor of gynaecology at the hospital.
Elizabeth later retired to Aldeburgh while pursuing her political interests. She became the first female mayor of Aldeburgh (and England) in 1908.
The Fawcett Society is the foremost effort to achieve gender equality in the UK. We were inspired by Millicent Garrett Fawcett, who motivated people to support women's suffrage in the NUWSS in the early 1900s.
Today we can make a difference by campaigning for changes in legislation, influencing people's behaviour, and empowering both women and men.
We advocate for just treatment in the workplace, equal pay, equal participation in decision-making, freedom from stereotypes and violence, harassment, and objectification because we believe that women's achievements will positively impact society as a whole.